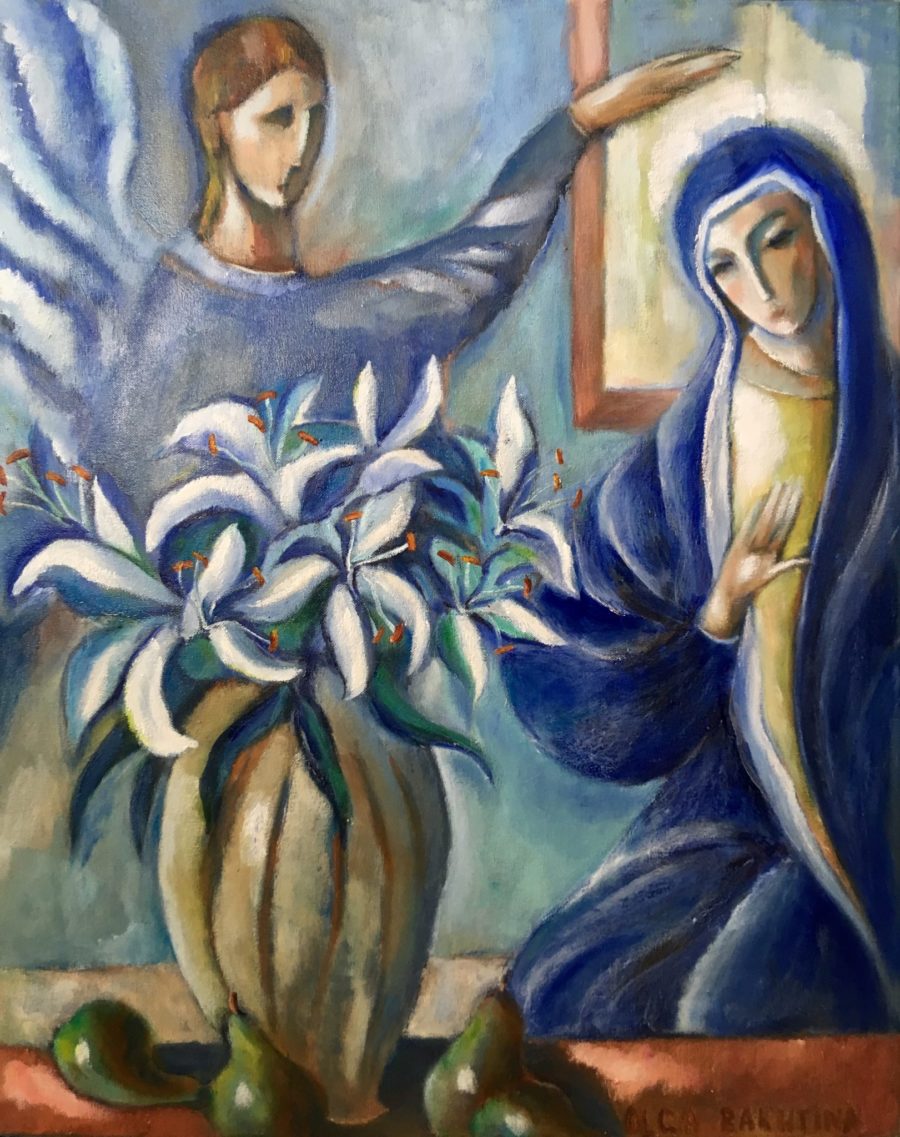 This painting is part of a series inspired by my studies of the Early Renaissance, it depicts the classical scene in Christian art where the Archangel Gabriel appears to the Virgin Mary to announce that she would conceive a son by the power of the Holy Spirit to be called Jesus. Traditionally, Christian artists used several symbols in the scene of Annunciation which were easily understandable for devotees.
For example, Mary's throne emphasizes the importance of her role, the dove symbolizes the act of immaculate conception, the book which Mary holds is a reference to Bible. There were lots of secret symbols in the scene of the Annunciation, especially in Northern Renaissance art.
In my Annunciation, there are pears symbolizing affection between the Virgin and Child and lilies to symbolise purity. Both pears and lilies are favourite and frequent subjects in my artwork. It's interesting that a lily started to appear in the scene of Annunciation, replacing Gabriel's sceptre, from the 14th century in Florence. A red lily was represented in the coat of arms of Florence. Sienna, as Florence's old rival, replaced the sceptre with an olive branch in their paintings of the Annunciation. In Northern Early Renaissance paintings, we often see lilies in a vase rather than in Gabriel's hand.
In my painting, I tried to express the solemnity of the moment with simplified forms and the tranquillity of this event with a pearly colour palette.
As an alternative to the original painting, this image is available as limited edition high-quality Fine Art print on archival cotton rag paper. Please email olchik_b@yahoo.com for sizes and prices.